Scientific Industries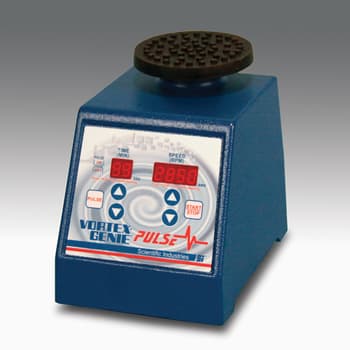 FREE tube holder accessory with purchase of a Digital Vortex-Genie 2. See below for details. Offer ends September 30, 2020.


Vortex-Genie Pulse, digital display, 500-3000 rpm, 120V, 60 Hz.
$511.59
$511.59
429.9000

USD

$429.90
USD
https://www.usascientific.com/vortex-genie-pulse/p/7407-2360
FREE tube holder accessory when you buy a Vortex-Genie Pulse!
Choose between a Vertical High Speed 1.5 mL Microtube Holder (7400-8209), a Horizontal Plastic Clip Microtube Holder (7404-7542), a Vertical High Speed 50 mL Tube Holder (7400-8203) or a Vertical High Speed 15 mL Tube Holder (7400-8206) Fax or email in proof of purchase and redemption form to redeem. See Redemption forms for more information. Offer expires September 30, 2021.
The Vortex-Genie® Pulse offers true pulsing action for a more random motion and thorough mixing. Use it for applications requiring more aggressive action than standard vortexing, but less than homogenization or disruption.
Programmable On and Rest function reduces heat buildup and is ideal for keeping heat sensitive materials in suspension. Includes digital speed control, timer, 3 platform with cover, and a cup head. Accepts all Vortex-Genie accessories. Made in the USA.