Tough-Tags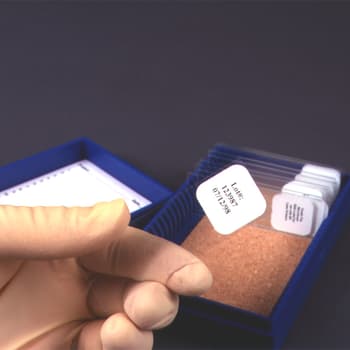 Tough-Tags® for Slides, 0.88" x 0.88", Sheets
Square Tough-Tags labels for microscope slides measure 0.88" x 0.88". 96/sheet, 2400/box.
USD
https://www.usascientific.com/tough-tags-slides-sheets/p/Tough-Tags-Slides-Sheets
Heat-resistant 8" x 11" sheets stay flat and will not jam in laser printers. Includes instructions for printing with Microsoft® Word. Tough-Tags are chemical-resistant, flexible, polyester labels that can withstand autoclaving, boiling water baths, freezing to -40°C, or heating up to +121°C without peeling, cracking, or falling off. They adhere strongly to plastics and other materials. Twenty-five sheets per box.

Tough-Tags are thin and will not prevent tubes from fitting into centrifuge rotors.