Scientific Industries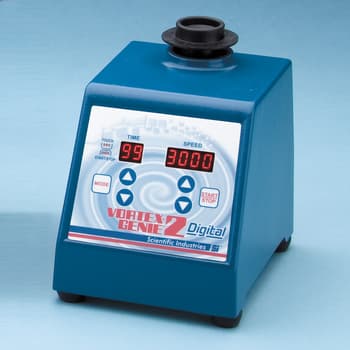 FREE tube holder accessory with purchase of a Digital Vortex-Genie 2. See below for details. Offer ends September 30, 2020.


Digital Vortex-Genie 2 variable speed vortexer with digital control, cup head and 3" platform, 120 V, 60 Hz.
$496.65
$496.65
416.2500

USD

$416.25
USD
https://www.usascientific.com/digital-vortex-genie/p/7402-2360
FREE tube holder accessory when you buy a Digital Vortex-Genie 2!
Choose between a Vertical High Speed 1.5 mL Microtube Holder (7400-8209), a Horizontal Plastic Clip Microtube Holder (7404-7542), a Vertical High Speed 50 mL Tube Holder (7400-8203) or a Vertical High Speed 15 mL Tube Holder (7400-8206) Fax or email in proof of purchase and redemption form to redeem. See Redemption forms for more information. Offer expires September 30, 2021.
Maximize experimental reproducibility with the Digital Vortex-Genie®2. The digital controls allow you to set an accurate, repeatable speed each time. The speed selector allows gentle shaking action up to high-speed vortexing (500-3000 rpm). The built-in timer operates from 1-99 seconds in the "Touch On" mode and 1-99 minutes in the "Hands-Free" mode.

Includes a 3" platform and a cup head. Optional multiple tube or plate heads are available. Base measures 6.5" L x 4.8" W x 6.5" H and weighs 8.8 pounds. 120 V, 60 Hz. Two year warranty. Made in the USA.