Cryo-Tags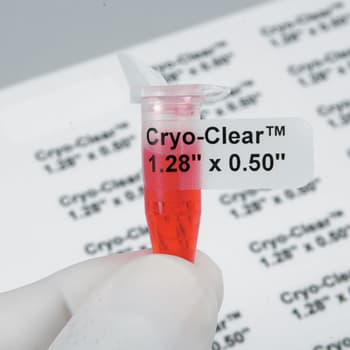 Cryo-Clear Labels on Sheets
Clear, freezer-safe labels on laser printable sheets. Great for cryogenic freezer storage.
USD
https://www.usascientific.com/cryo-clear-sheets/p/Cryo-Clear-Sheets
Cryo-Clear labels for 1.5-2.0 mL tubes measure 1.28" L x 0.5" W. 85/sheet, 1700/box.
Cryo-Clear labels for 0.5 mL tubes measure 0.94" L x 0.5" W. 119/sheet, 2380/box.
Labels on 8" x 11" sheets stay flat and will not jam in laser printers. Cryo-Clear labels are solvent resistant, flexible labels that can withstand conventional and cryogenic freezer storage (vapor and liquid phase nitrogen storage at -196°C). They adhere strongly to plastics, glass, and metal and can withstand dry heat up to 70°C without peeling, cracking, or degrading.
Cryo-Clear™ Laser Labels resist most detergents and oils, as well as many organic solvents, caustic agents and other challenges without peeling. They will resist water soaking for at least 24 hours at room temperature and water vapor (100% relative humidity) at 35°C for at least 24 hours. Twenty sheets of labels per box.