USA Scientific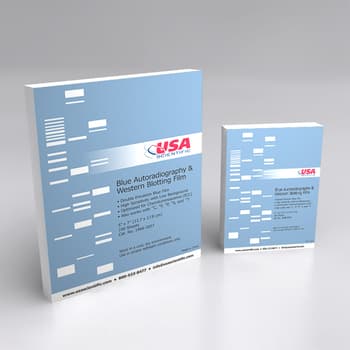 Blue Autoradiography Film
Blue autoradiography/western blotting film, 100 sheets/box. Choose 8 in x 10 in (20.3 x 25.4 cm) or 5 in x 7 in (12.7 x 17.8 cm).
89.5000

USD

$89.50
119.0500

USD

$119.05
USD
USD
https://www.usascientific.com/blue-autoradiography-blotting-film/p/Blue-Film
Double emulsion blue film
Optimized for chemiluminescence (ECL)
Also works with 14C, 32P, 33P, 35S, and 125I
Create bright, sharp images with high contrast. New blue film offers high sensitivity for clear images with no foggy or grainy background. Coated on both sides, the film can be used with calcium tungstate or blue-emitting rare-earth screens. Suitable for manual or automated processing. Temperature range 39°F to 80°F; relative humidity from 30-50%. Light-safe dispenser boxes hold 100 sheets.