CytoOne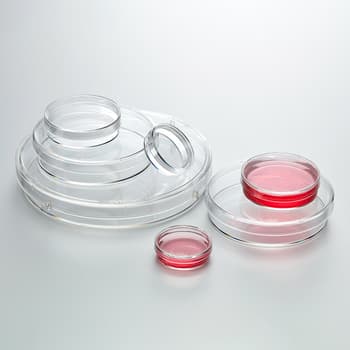 Sterile dishes have easy-to-handle lids, vented stacking rims, and small sleeve quantities help reduce the risk of accidents and contamination.
35 × 10 mm: 30 sleeves of 10 (300) per case
60 × 15 mm: 30 sleeves of 10 (300) per case

100 × 20 mm: 30 sleeves of 10 (300) per case
150 × 20 mm: 12 sleeves of 5 (60) per case
$148.90
$148.90
76.8500

USD

$76.85
$433.45
$433.45
224.6500

USD

$224.65
USD
USD
https://www.usascientific.com/cytoone-dish/p/cytoone-dish
Prevent accidents – beveled sides on small bases and tabs on large lids allow safe and easy pickup and handling
Prevent unintended lid removal – vented rims reduce condensation and surface tension between dishes
Prevent contamination – small sleeve quantities expose fewer dishes
Stop refocusing – flat bases keep cells in focus as you move from one section to another
CytoOne® TC treated and non-treated dishes offer easy handling and excellent growth. Sturdy flat bases resist bowing or warping and help cells settle evenly. Sleeves can be opened easily without sharp tools, and small sleeve quantities mean fewer left-over dishes are exposed or wasted. Manufactured from optically clear, premium grade polystyrene under ISO 9001 standards with rigorous quality control. Certified DNase, RNase, DNA, and pyrogen free; non-cytotoxic. Gamma sterilized.

| OD x HEIGHT, MM | GROWTH AREA, CM2 | ID, CM | WORKING VOLUME, mL |
| --- | --- | --- | --- |
| 35 x 10 | 9.6 | 3.5 | 2 |
| 60 x 15 | 21 | 5.2 | 5 |
| 100 x 20 | 55 | 8.5 | 10 |
| 150 x 20 | 149 | 13.8 | 30 |