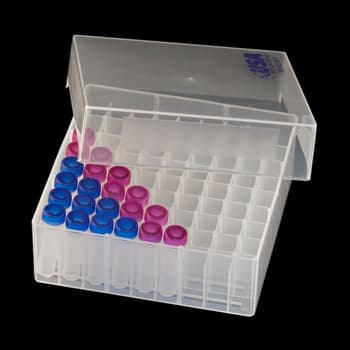 81-Place BestBox® Freezer Box, Polypropylene
Polypropylene 81-place box, natural, 5.1" L x 5.1" W x 1.8" H, 5/pack.
USD
https://www.usascientific.com/81-place-bestbox/p/2381-5000
Popular freezer boxes hold 1.5-2.0 mL tubes and most cryo vials up to 60 mm tall. Boxes feature vent slots under each cell and writing surfaces on the lids. Polypropylene boxes withstand freezing (-90°C) and autoclaving. For storage in liquid nitrogen, see the 2381-5300 Zylar® box.
BestBox® 81-place boxes fit most freezer racks. Permanent dividers won't lift out. Cell dimensions are approximately 0.5" x 1.25" H (12.7 x 31.7 mm H). Outer dimensions are 5.1" L x 5.1" W x 1.8" H.