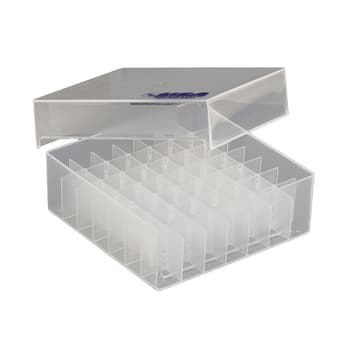 49-Place Bestbox®, Polypropylene
Square polypropylene 49-place freezer storage box, natural, 5/pack.
USD
https://www.usascientific.com/49-place-bestbox/p/2349-5000
Polypropylene Bestbox® 49-place freezer box holds tubes with a maximum OD of approximately 0.65 in x 2.4 in H (16.5 x 60 mm). A fully closed box measures 5.1 in L x 5.1 in W x 1.8 in H. Each box has a frosted writing surface and vent slots under each cell. Permanent dividers won't lift out. Withstands freezing (-90°C) or autoclaving.