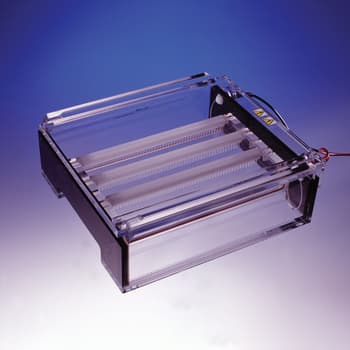 23 x 14 cm DNA Plus Agarose Gel System
23 x 14 cm DNA Plus high capacity agarose gel system, includes four 50-tooth combs.
USD
https://www.usascientific.com/23x14cm-dna-plus/p/3431-4000
23 cm wide x 14 cm long
Accepts up to 200 samples (four combs)
Multichannel format combs for fast, error free sample loading
View or photograph gel while still on gel tray
Three year warranty
The DNA Plus® High Capacity gel system is ideal for screening PCR samples, restriction mapping, cloning, and plasmid preps. Gel combs are compatible with multi-channel pipettors (9 mm spacing) for quick sample transfer from 96-well plates. Optimized electrode placement gives fast runs with maximum resolution and no smiling. Vented lid reduces fogging from condensation. Measures 26 cm W x 29 cm L x 8 cm H (OD). Running buffer volume: 800 mL.
Gels are easily cast in the external casting chamber without the need for additional bumpers or tape. Leveling screws ensure an even gel. Thick gel tray resists warping from warm (<60°C) agarose.
Durable acrylic construction and protected platinum electrodes keep these units functioning for years. Safety features include shielded plugs and power cords with flexible construction at stress points. As the lid is removed, power stops to eliminate accidental shock.
Each system includes:
Four 1.5 mm thick 50 tooth combs
Buffer chamber
UV transmissible gel tray
Gel casting chamber
Safety lid with power cords