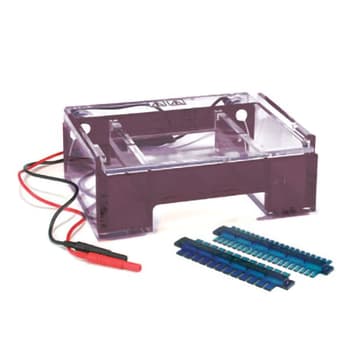 12 x 14 cm DNA Plus Mini Agarose Gel System
12 x 14 cm DNA Plus complete mini agarose gel system, includes double-sided 12- and 20-tooth combs.
USD
https://www.usascientific.com/12x14cm-dna-plus/p/3487-5000
12 cm wide x 14 cm long
Accepts up to 48 samples (two optional 24-tooth combs)
Quick, easy gel casting
Two comb positions for running multiple samples
Silk-screened fluorescent ruler on each UV transmissible gel tray helps compare and document results
Vented lid reduces condensation
Three year warranty
Includes one each 12-tooth and 20-tooth double-sided 1.0 mm/1.5 mm thick combs. Measures 18 cm W x 24.5 cm L x 9.5 cm H (OD). Running buffer volume: 800 mL.
DNA Plus® mini gel systems are reliable, rugged, and easy to use. Gels are easily cast in the empty buffer chamber without the need for end caps or tape. (Optional casters are available for pouring gels while the buffer chamber is in use.)
Strong, thick gel trays resist warping from warm (<60°C) agarose. Each tray has two comb positions and is made from a UV transmissible acrylic for direct viewing or photographing on UV light boxes. Each system includes two double-sided polycarbonate gel combs that have both 1.0 mm and 1.5 mm thick teeth.
Durable acrylic construction and protected platinum electrodes keep these units functioning for years. Safety features include shielded plugs and power cords with flexible construction at stress points. As the lid is removed, power to the system is cut off to eliminate accidental shock.
Mini gel casting procedure:
Place the gel tray inside the chamber with the gaskets forming a seal against the chamber sides. Pour agarose and insert the comb(s).
When the gel is set, lift the tray, rotate it 90°, and return it to the gel chamber.