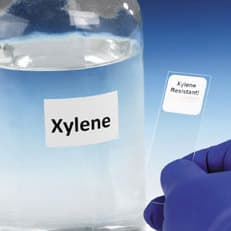 TT Xylene Tags 0.875" x 0.875"
Xylene Resistant Thermal Transfer Labels, .875" X .875", 1000/roll

USD
https://www.usascientific.com/tt-xylene-tags-0.875-x-0.875-/p/9196-1000
Xylene Resistant Thermal Transfer Labels are pre-cut, peel off labels for thermal transfer printers.
Xylene Resistant - Polyester labels provide strong solvent resistance, specifically to xylene washes as well as longer term exposure to xylene
Versatile - Temp. Range of -40 °C to 121 ° C. Xylene labels resist boiling water baths, autoclaving, and moderate freezer temperatures.
Specially Designed - Rolls are specially top-coated to readily accept thermal transfer printing and can also accept handwriting from lab markers.
Convenient - Labels are available in a microscope slide size as well as a unique general purpose size for multiple uses.
****100% Virgin polypropylene tubes are recommended. Avoid use of siliconized surfaces.