USA Scientific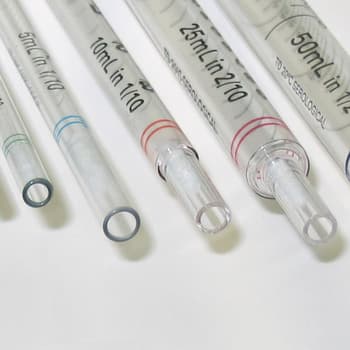 Serological Pipets, Sterile
Individually wrapped sterile polystyrene pipets with standard tip orifice. Color-coded by volume.
$58.50
$58.50
46.1000

USD

$46.10
$229.50
$229.50
169.9000

USD

$169.90
USD
USD
https://www.usascientific.com/serological-pipet-sterile/p/Serological-USASCI
Polystyrene pipets are individually wrapped in paper-backed plastic wrappers. Volume indicators are large and easy to read; 5, 10, 25, and 50 mL pipets include ascending and descending numbers. Negative graduations provide extra capacity. Color-coded by volume for quick identification.
High quality virgin polystyrene with polyester filter. Manufactured in an ISO 9001:9002 certified facility in the USA. Sterile, noncytotoxic, and certified RNase/DNase free and non-pyrogenic.
1 mL, 10 sleeves of 100 (1000), yellow color bands
2 mL, 5 sleeves of 100 (500), green color bands
5 mL, 4 sleeves of 50 (200), blue color bands
10 mL, 4 sleeves of 50 (200), orange color bands
25 mL, 4 sleeves of 50 (200), red color bands
50 mL, 4 sleeves of 25 (100), purple color bands