USA Scientific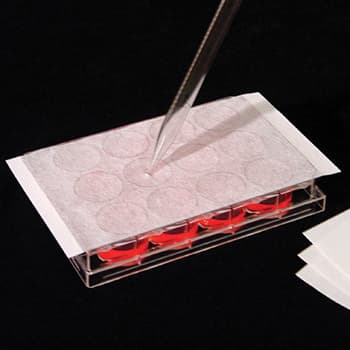 Allow air and gas exchange while minimizing well-to-well cross-contamination and evaporation.
50.5500

USD

$50.55
81.3500

USD

$81.35
USD
USD
https://www.usascientific.com/microporous-film/p/microporous-film
Microporous pierceable, non-cytotoxic rayon film is 140 µm thick and has a medical grade adhesive. May be pierced with pipette tips. Liner paper has two perforated end tabs. For use from -20°C to +80°C;.
Non-sterile film has 100 sheets per box
Sterile film has 50 sheets per box
Directions:

1. Be sure the sealing surface is dry.
2. Peel off the center protective paper and position the film over the plate. Carefully press the film over the entire surface of the plate or use a brayer (Catalog No. 9127-2940).
3. To remove the end tabs, carefully hold the plate and tear the film along the perforations. To use as an additional seal, remove the end tab backing and seal it over the edge of the plate. When properly sealed, samples can be shaken, incubated, or easily transported.