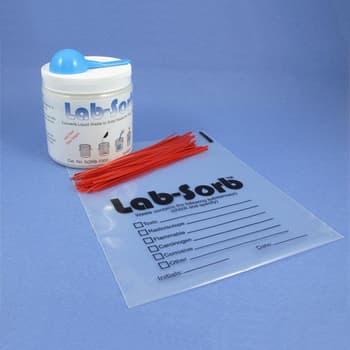 Lab-Sorb starter kit. Includes Lab-Sorb, scoop, and bags.
USD
https://www.usascientific.com/lab-sorb-starter-kit/p/Lab-Sorb-Kit
Quickly turn liquids into solids for easier waste disposal. Simply line a beaker with a disposal bag, add Lab-Sorb, and pour in your liquid. Within seconds, the liquid is solidified and ready for proper disposal. Lab-Sorb can also be used directly in a disposable vessel or plate, or for safer liquid spill containment and clean up.
Choose small, medium, or large for use with most 500-600 mL, 1 liter, or 2 liter beakers. Each starter kit includes a 16 oz jar of LabSorb, a graduated scoop, and 25 bags. Variety starter kit includes Lab-Sorb, scoop, 15 small bags, 10 medium bags, and 5 large bags. Lab-Sorb and bags may also be ordered separately.