Eppendorf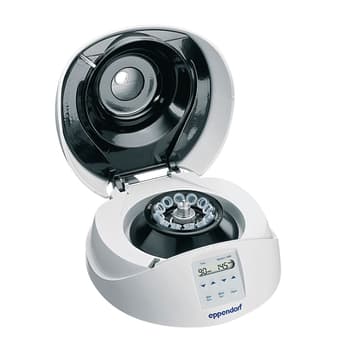 Eppendorf MiniSpin Centrifuge
MiniSpin variable speed microcentrifuge, 13,400 rpm, 12,100 x g, 115 V, 60 Hz.
USD
https://www.usascientific.com/eppendorf-minispin-centrifuge/p/4062-0100
Variable speed up to 13,400 rpm (12,100 x g)
Digital display
Timer and quick spin button
Automatic lid release
Compact Eppendorf® 12-place microcentrifuge saves bench top space while providing powerful variable speed centrifugation of up to 12,100 x g.
The MiniSpin offers quick deceleration and acceleration of less than 13 seconds. At the end of the run, the lid automatically opens to reduce handling time. There is also a separate short spin button for fast, convenient quick spins.
The MiniSpin centrifuge comes with a 12-place rotor for 1.5 and 2.0 mL tubes and has a 15 second to 30 minute timer. The centrifuge measures 8.9" W x 9.4" D x 4.7" H and weighs just 9.5 pounds. Two year warranty. 115 V, 60 Hz.