Eppendorf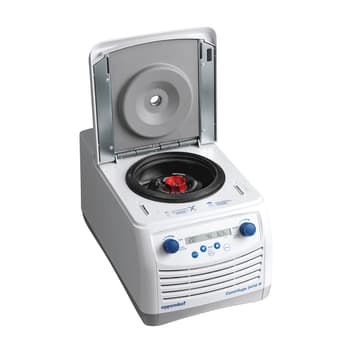 Eppendorf Centrifuge 5418 R
Eppendorf 5418 R refrigerated microcentrifuge with 18-place rotor. 14,000 rpm, 16,873 x g, 120 V, 60 Hz.
USD
https://www.usascientific.com/eppendorf-5418r-refrigerated-microcentrifuge/p/4054-1137
18-place microcentrifuge features a full molecular biology grade centrifugation force of up to 16,873 x g (14,000 rpm). The fixed angle rotor (included) holds 1.5 or 2.0 mL tubes and has an aerosol tight lid.

Model 5418 R also has a patented latchless lid and bowl design that reduces noise and eliminates the possibility of catching loose clothing or gloves on the locking pin mechanism. The lid pops open at the end of the run for convenience. This space saving unit measures just 7.8 W x 11.4 D x 7.7 H. Includes a built-in timer and an automatic one-button rcf/rpm converter. Two year warranty.
Temperature range from 0°C to 40°C
Patented compressor technology minimizes vibration and improves temperature accuracy
Maintains constant 4°C at maximum speed
FastTemp function for fast pre-cooling and maximum temperature accuracy inside the rotor
ECO shut-off engages after 8 hours of non-use to reduce energy consumption and extends compressor life (can be deactivated). Saves you up to 47% energy overnight.
Built-in condensation drain to eliminate water accumulation and prevent corrosion