Scientific Industries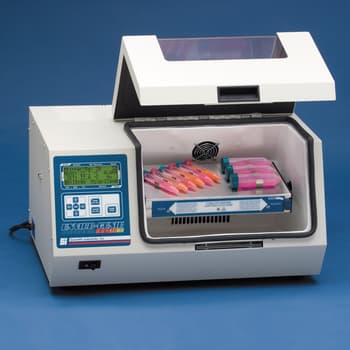 FREE Magnetic Boxes AND Clip Plates with purchase. See below for details. Offer ends January 31, 2022.

Enviro-Genie personal cold room/incubator with rocker/rotator platform; includes accessories.
$6,510.68
$6,510.68
6185.2000

USD

$6,185.20
USD
https://www.usascientific.com/enviro-genie/p/7400-1200
FREE Magnetic Boxes AND Clip Plates with purchase of the Enviro-Genie Mixer.

Get ALL of the following:
Precise temperature control from 4.0°C to 75.0°C
Thermo-electric refrigeration and heating (no compressor)
Rotates, rocks, stirs, and shakes
Microprocessor controls provide accuracy and reproducibility
Economical, space-saving, and secure
Crystal-clear backlit LCD display visible at a glance under any lighting conditions
Need temperature control and agitation in a small space? Perform assays, washings, hybridizations, and cell growth studies right at your bench. The Enviro-Genie® personal cold room/incubator can rotate, rock, stir, and shake at precise temperatures and speeds. The chamber air is continuously circulated to ensure temperature consistency and uniformity, and to reduce the possibility of contamination from outside air. Experiments can be monitored through the shatter resistant window without affecting the chamber environment.
A timer displays elapsed time or remaining programmed time. There are visible and audible alarms for both temperature and time. An RS232 port allows data acquisition and optional control.
A simple adjustment changes the 2-sided stainless steel platform from complete rotation to rocking. The platform surfaces are magnetized to hold a non-skid rocker tray, magnetic tube clips, or magnetic strips for plastic bags. To achieve a specific mixing action or combination of actions, the position of the magnetic clips can be adjusted to orient the tubes vertically, horizontally, or on a diagonal. The different orientations will cause the content of each tube to roll, tumble, or mix in a combination of movements. To use the magnetic stirrers, wire rack, or optional orbital shaker, remove the platform. An optional 3-D orbital shaker attachment is available.
The Enviro-Genie accommodates most tubes, vials, beakers, flasks, tissue culture dishes, multiple well plates, plastic bags, and hybridization and staining trays. Made in the USA.
Includes the following accessories:
Non-skid 8 x 12 metal rocker tray
Four 4" x 1/2" stainless steel strips
Clip plate for 12 each of 10-13 mm tubes (microcentrifuge tubes)
Clip plate for 6 each of 15-17 mm tubes (15 ml conical tubes)
Clip plate for 3 each of 28-30 mm tubes (50 ml conical tubes)
Stackable wire rack