Micronic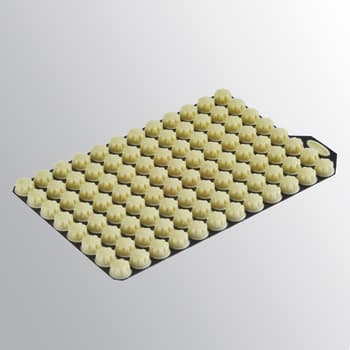 Micronic TPE Lyo Caps Capcluster-96, natural (beige), 96 caps/mat, 10 mats/pack (960 caps).
USD
https://www.usascientific.com/tpe-lyo-caps/p/1775-3042
Micronic TPE Lyo Caps-96 are used for sealing sample storage tubes in a 96-well tube format. The caps are specially developed for the lyophilisation process as the vents in the caps allow water vapor to escape from the tubes. TPE Lyo Caps are compatible with 0.50 mL, 0.75 mL, 1.10 mL, 1.40 mL, 2.00 mL, and 2.50 mL tubes from Micronic. Lyo Caps are available in a Capcluster-96 format. After capping 96 tubes in one pass, the retaining foil can be removed to leave each tube individually capped.
Multi-pierceable without losing seal integrity
Natural color
Medical approved material (USP Class VI certificate)
Compatible with Micronic tubes in 96-format
Resists chemical solvents
Class 7 clean room production
RNase/DNase and pyrogen free