Greiner Bio-One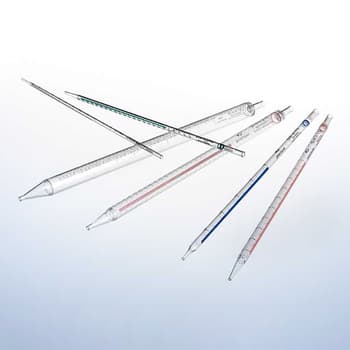 Serological Pipets, GBO, Sterile
Greiner Bio-One polystyrene pipets available individually wrapped or in bulk sleeves. See below for specific information on quantities.

Some items may be in limited supply and have longer than normal delivery times. Please contact Customer Service at 800-522-8477 or your local sales representative for more information.

69.7500

USD

$69.75
264.9500

USD

$264.95
USD
USD
https://www.usascientific.com/serological-pipet-greiner-sterile/p/Serological-GBO
Color-coded stripes near the top identify the volume of each pipet. Optical grade polystyrene is highly polished to reduce meniscus formation and help ensure complete delivery. Fine graduation lines; accuracy of 2% or better. Individually wrapped pipets have lot numbers printed on each wrapper. Sterile. Greiner Bio-One brand.
Bulk Quantities
1 mL 5660-4107 - 1000 per case
2 mL 5671-0107 - 1000 per case
5 mL 5660-6107 - 500 per case
10 mL 5660-7107 - 500 per case
25 mL 5676-0107 - 200 per case
Individually Wrapped Quantities
1 mL 5660-4181 - 1000 per case
2 mL 5671-0180 - 1000 per case
5 mL 5660-6180 - 200 per case
10 mL 5660-7180 - 200 per case
25 mL 5676-0180 - 200 per case
50 mL 5676-8180 - 100 per case