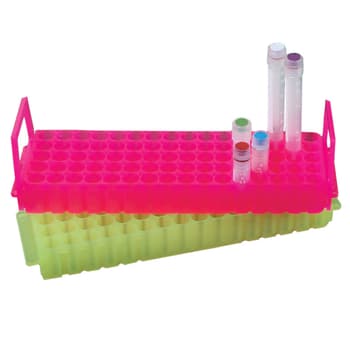 Reversa-Rack 80-Place Rack
Rectangular polypropylene reversible 80-place rack, mixed neon colors, 5/pack.
USD
https://www.usascientific.com/reversa-rack-80-place-rack/p/2380-2408
Polypropylene 80-place rack flips over to hold large or small tubes. One side holds 1.5 mL, 2.0 mL, 12 x 75 mm and most cryogenic storage tubes. The other side holds up to sixty 0.5 mL and individual 0.2 mL tubes. Detachable handles make it easy to stack or carry. Removable side clips allow the racks to be connected for large experiments. Withstands freezing (-90°C) or autoclaving. Mixed neon colors include blue, green, orange, red (or pink), and yellow. Measures 9 1/8" L x 2 13/16" W x 2" H with handles and side clips. Five per pack.