Drummond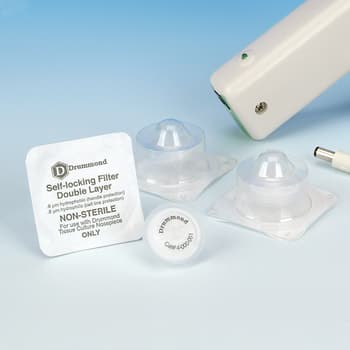 Pipet-Aid Replacement Filters
Self-locking replacement filters for Pipet-Aid controllers, 5/pack.
USD
https://www.usascientific.com/pipet-aid-filters/p/4440-0510
Dual hydrophilic 0.8 µm/hydrophobic 0.8 µm filter prevents further use once contaminated by fluid. This double membrane filter provides a barrier to particles as small as 0.1 µm. Fits Pipet-Aid models equipped with a tissue culture nosepiece. Will also fit Portable Pipet-Aid XP, Pipet-Aid XP2, Pipet-Aid XL, and Pipet-Aid Hood-Mate. Not for use with corded Pipet-Aid models 4440-1100 or 4440-1110.