Scientific Industries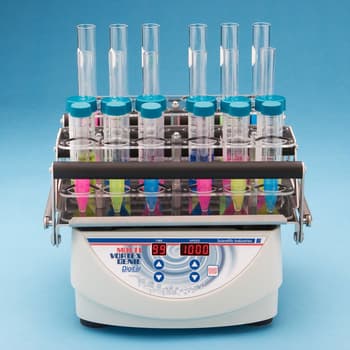 Multi Vortex-Genie digital adjustable speed vortexer, 120 V, 60 Hz.
USD
https://www.usascientific.com/multi-vortex-genie/p/7406-2360
Mix multiple test tubes, vials, cylinders, flasks or other vessels with the same original motion as the Vortex-Genie® 2. Use for gentle, orbital-style shaking or vigorous vortexing.
Digital speed and time controls ensure reproducibility and accuracy. The speed ramps up gently to avoid splashing of open containers. Support bars keep flasks and larger items in place. Includes two 12-place racks for tubes of up to 29 mm in diameter.
Durable, heavy zinc die cast housing with specially designed feet prevents "walking". Use in cold rooms or incubators.
Timer: 1-99 min. or continuous. Dimensions: 10.6" W x 12.2" D x 7.7" H. Weight: 25 lbs. Made in the USA.