USA Scientific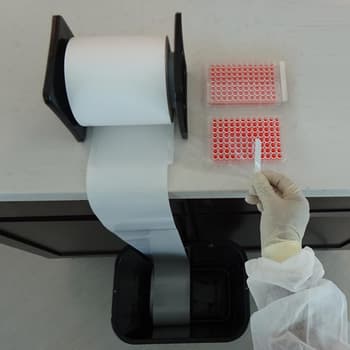 Microplate Film, Roll Format
Microplate film roll, polyester-based, -40C to +120C, non-sterile, 500 sheets/roll.
USD
https://www.usascientific.com/microplate-film-roll-format/p/2920-3500
Sealing plates couldn't be easier!
Lift one film by the extended tab and remove it from the roll
Faster than single sheet film
No individual liners to handle
Used for ELISA, incubations, and general storage
Sealing lots of plates? New roll format makes film application easier, faster, and more economical. Just peel one film from the liner at a time, as you would with a label. The continuous paper liner can be fed into a waste basket or torn away at your convenience.
The microplate film roll is supported on a self-standing spool with adjustable tension. The roll is boxed and packaged within a protective bag to eliminate dust or particulate contamination. 500 sheets/roll.
Minimize evaporation and prevent leakage or cross-contamination. Polyester-based film eliminates edge effects from the drying that occurs with lids or inferior sealing films. Ideal for ELISA/EIA applications, short term storage, or incubation of tissue culture plates. One non-perforated end tab.
Measures 131 x 79 mm with end tab. 50 µm polyester base with 25 µm acrylic adhesive. Non-pierceable.