Eppendorf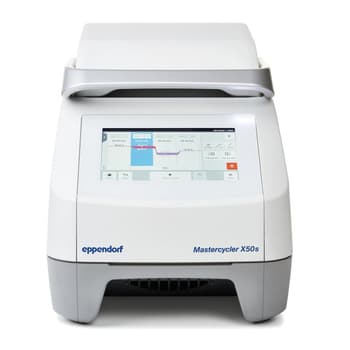 Eppendorf Mastercycler X50 cyclers feature an innovative 2D-Gradient for advanced PCR optimization.
$7,590.00
$7,590.00
7210.5000

USD

$7,210.50
$9,900.00
$9,900.00
9405.0000

USD

$9,405.00
USD
USD
https://www.usascientific.com/mastercycler-x50/p/Mastercycler-X50
The new Mastercycler X50 features ramp rates of up to 10°C/s and is the ideal cycler family for routine applications or advanced research. The 2D-Gradient allows you to optimize both the denaturation temperature (bottom to top) and the annealing temperature (left to right) during the same run.
The highly intuitive touch screen is easy to use, and one unit with a touch screen can be networked with up to nine eco units (no touch screen). See our website for more information.
Mastercycler X50 models:
X50s: Touch screen, 96-well silver block. #4063-1110
X50a: Touch screen, 96-well aluminum block. #4063-1318
X50i: Eco unit, (external control), 96-well silver block. #4063-0112
X50l: Eco unit, (external control), 96-well aluminum block. #4063-0310