Eppendorf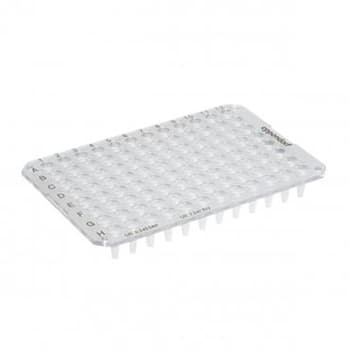 Eppendorf twin.tec PCR Plate 96, Low Profile, Unskirted
Eppendorf twin.tec PCR Plate 96, low profile, unskirted, 150 µL, 20 plates.
USD
https://www.usascientific.com/eppendorf-twin.tec-pcr-plate-96-low-profile-unskirted/p/twintec-low-96-noskirt
Eppendorf twin.tec PCR plates have a lot of benefits to offer, particularly in automation and high throughput processes. The rigid polycarbonate frame works well in automation and different colors will organize the different steps of your workflow.
Eppendorf twin.tec PCR plates combine extremely thin walled polypropylene wells for optimal heat transfer to the sample and extremely robust polycarbonate frames for ultimate rigidity and torque-resistance. twin.tec plates reduce the risk of cross contamination from their raised will rims for effective sealing.
Features
One-piece design combines a polycarbonate frame and polypropylene wells for optimum performance
Extremely thin-walled polypropylene wells guarantee optimum heat transfer to the sample
Exceptionally solid and torque-resistant polycarbonate frame
Improved well-to-well tolerance
Cut-away corner and alphanumeric grid-referencing
Raised well rims for effective sealing, also reduces risk of cross-contamination
Certified free of any detectable human DNA, DNase, RNase and PCR inhibitors
Ideal for quantitative real-time PCR