Eppendorf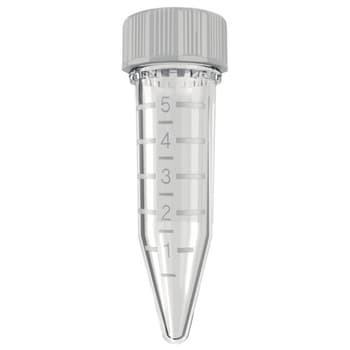 Eppendorf Tubes 5.0 mL with Screw Cap
Eppendorf Tube 5.0 mL. Conical bottom centrifuge tube with screw cap. Natural color. 2 bags of 100 tubes (200).
71.0000

USD

$71.00
88.0000

USD

$88.00
USD
USD
https://www.usascientific.com/eppendorf-tubes-5-0-ml-with-screw-cap/p/Ep-5mL-SC-Tube
Eppendorf Tubes are the benchmark for simple and safe sample preparation from 0.5 to 2.0 mL. For larger volumes, 15 mL and 50 mL conical tubes are commonly used. With medium sample volumes you may face an issue: they need to be processed with large conical screw cap tubes - impractical, inconvenient and often prone to contamination. Eppendorf now offers the "missing link": the Eppendorf Tube 5.0 mL. This product fills the gap between existing tube versions and enables the simple and safe processing of sample volumes up to 5.0 mL!
Ergonomic operation: Screw cap has flattened and grooved sides to provide optimal grip and user-friendly handling.
Broad operating temperature range of -86°C to 100°C.
Material: Exceptionally high-quality, transparent polypropylene, free of plasticizers, biocides or mold release agents, for reliable test results
Certified purity: Available in lot specific certified Eppendorf Quality, PCR clean, and Sterile purity grades.
Centrifugation safety: Maximum safety and stability for centrifugation up to 25,000 x g. Fast and efficient protocols.
Conical shape: Compatible with accessories for conical 15 mL tubes many existing adapters and racks can be used.