Eppendorf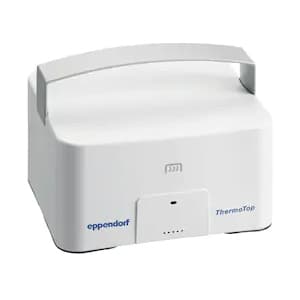 Eppendorf ThermoTop for use with Thermomixer F1.5, Thermomixer FP, Thermomixer C, and ThermoStat C.
USD
https://www.usascientific.com/eppendorf-thermotop/p/4053-8003
The ThermoTop, with unique condens.protect technology, reliably prevents the formation of condensate on the tube lid and tube wall. Operation is simple, intuitive and does not require an additional cable connection. When the ThermoTop is placed on the device, it begins heating immediately. The temperature optimally adapts to the test temperature to ensure that it does not negatively affect the sample: optimal sample protection with optimal reaction conditions produce optimal results.
Simple, wireless handling with automatic recognition, initialization and operation
Efficient and reliable prevention of condensation on tube lid and wall
Improves handling times (tubes dont have to be spun down at the end of the incubation)
ThermoTop improves temperature homogeneity in the reaction vessel
Suitable for use with Eppendorf Thermomixer F1.5, Eppendorf Thermomixer FP, Eppendorf Thermomixer C, and Eppendorf ThermoStat C with Eppendorf SmartBlocks 0.5 mL, 1.5 mL, 2.0 mL, plates, PCR 96 and PCR 384