Eppendorf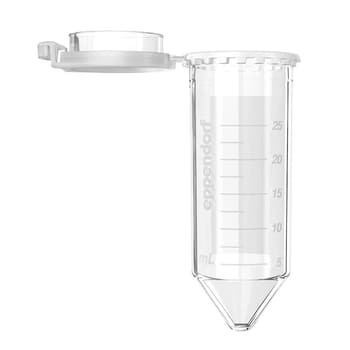 Eppendorf Conical Tubes 25 mL with SnapTec Cap
SnapTec™ Conical Tubes 25 mL with snap cap. 200 tubes (5 bags × 40 tubes).
$74.00
$74.00
66.5000

USD

$66.50
$147.00
$147.00
133.0000

USD

$133.00
USD
USD
https://www.usascientific.com/eppendorf-conical-tubes-25-ml-with-snap-cap/p/Conical-25ml-snap
The latest member of the big Eppendorf Tube Family fills the gap between the volumes of traditional conical tubes of 15 mL and 50 mL. Optimized height, outstanding quality and specifications make these conical tubes ideally suited for cell biology e.g. for pooling media from T75 flasks, bacteria culture in midi prep size or overlapping applications like buffer preparation, storage, and transport.
Increased volume accommodates larger sample sizes
Same diameter as the 50 mL tube for ease of use
Available in screw cap and innovative snap cap closure
Compact size requires less storage space