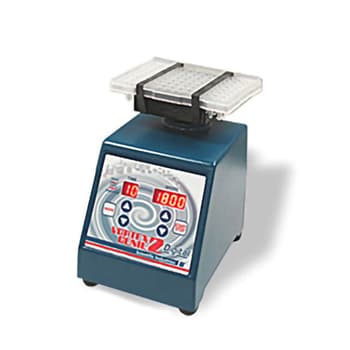 Digital Vortex-Genie® 2 for ABI
Digital Vortex-Genie 2 for ABI dye terminator kits using microplates only, 120 V.
Specifically designed for Applied Biosystems microplate protocols. Includes a plate adapter and elastic bands for use with dye terminator purification kits. 500-3000 rpm; includes 1-99 sec/1-99 min timer. Digital control for both speed and time; touch mode or hands-free mode.
Weights 8.8 lbs. 165 x 122 x 165 mm. Two year warranty. Does not include a cup head or 3 platform.