Greiner Bio-One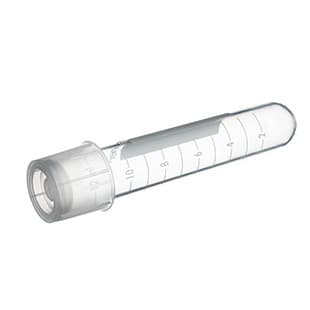 Culture Tube 14mL 18x95mm, Sterile
Culture Tube 14mL, 18x95mm, Sterile, PPN, with Two-Position Vent Stopper
256.8000

USD

$256.80
265.5000

USD

$265.50
USD
USD
https://www.usascientific.com/culture-tube-14ml-18x95mm-sterile/p/culture_tube

Culture Tube 14mL, 18x95mm, Sterile, Polypropylene, w/ Snap (Vent) Cap. Graduated and has writing area. Round bottom.


With two-position vent stopper that fulfills two functions:
1. When attached lightly, this enables a uniform ventilation of the tube contents
2. When attached firmly, by pressing in the stopper further, an airtight closure of the tube is achieved

Free of detectable DNase, RNase, human DNA. Autoclavable without vent stopper.