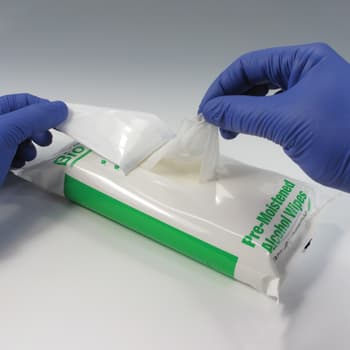 Pre-moistened alcohol wipes, 40/pack.
USD
https://www.usascientific.com/alcohol-wipes/p/9197-1000
Convenient, pre-moistened laboratory wipes make decontamination and lint-free cleanup easy. The durable proprietary fabric is 100% biodegradable and will not scratch optical surfaces. Great for cleaning pipettors, cuvette surfaces, PCR machines, water baths, etc. The 70% isopropyl alcohol/30% water mixture evaporates completely with no residue. Each resealable package contains 40 wipes.
Strong, lint-free wipes won't scratch
Ready to use format saves time
Decontaminates and cleans a variety of surfaces