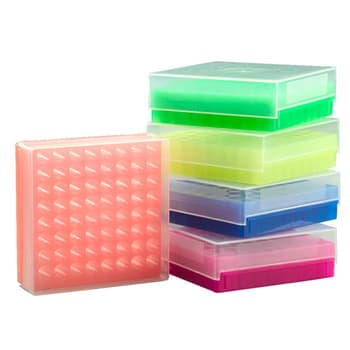 64-Place BestRack® Tube Rack
Polypropylene 64-place tube rack with lid, 5 1/8" L x 5 1/8" W x 2" H. 7/pack.
USD
https://www.usascientific.com/64-place-micro-tube-rack/p/64-Place-Micro-Tube-Rack
Holds 1.5, 2.0, or 0.5 mL tubes
Alphanumeric sample identification
Freeze (-90°C) or autoclave
Fits standard freezer racks
Mixed neon colors include blue, green, orange, red, yellow, natural, and black.
BestRack® reversible 64-place polypropylene rack holds 1.5 and 2.0 mL tubes on one side or 0.5 mL tubes on the other. Also holds screw cap microtubes and most cryogenic vials. Includes a transparent polypropylene lid with two frosted labeling areas. Measures 5 1/8" L x 5 1/8" W x 2" H with lid.