Micronic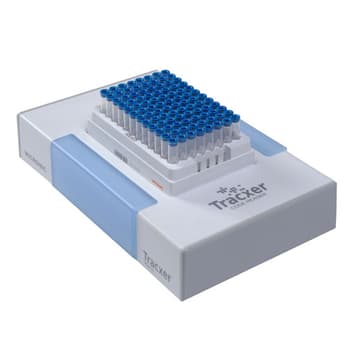 Tracxer Code Reader RS210
The Micronic Tracxer Code Reader RS210 reads whole racks filled with 2D Data-Matrix or TraXis coded tubes quickly, cost effectively, and with limited lab space.
USD
https://www.usascientific.com/tracxer-code-reader-rs210/p/1775-5120
The compact RS210 reader is built for high throughput and automated systems. It enables a reliable interface with your sample organization. The Tracxer Code Reader Software is easy to install, gives reliable code readings and can be smoothly integrated into any laboratory sample database. The software also includes a no tube, no code feature. An optional integrated 1D Rack Barcode Reader BC210 is available.
Reads a whole rack (in 384-, 96-, 48-, 24- or 12- well format) in less than 5 seconds and a single 96-well format tube in less than 2 seconds
Scans and decodes 2D Data-Matrix and TraXis coded tubes
Small bench top solution
Easy-to-use Tracxer Code Reader Software (latest version)
Software Developers ActiveX Toolkit included for easy LIMS integration
Outputs CSV-files (text)
Microsoft Access / Excel compatible
Compatible with most brands of 2D Data-Matrix coded tubes
Specifications:
System requirements: 2x USB port
Scan time: 5 sec (whole rack) / 2 sec (single tube)
Dimensions: 25 x 16 x 4.7 cm / 10.0 x 6.2 x 1.9 inch
Weight: 1.3 kg / 2.9 lbs
Voltage: 115 - 230 V
Tube code reading: 2D Data-Matrix and TraXis codes