USA Scientific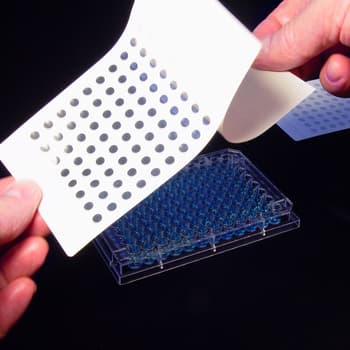 Withdraw aliquots from sealed plates without adhesive contacting your probe, pipette tip or samples! Pierceable, non-sterile, 50 sheets/box.
USD
https://www.usascientific.com/nal-96-pierceable-film/p/2923-5000
Double-layer standard-cut film provides a strong secure seal over the entire plate while eliminating adhesive from 90% of the area directly above each well. The top layer is adhesive free. The bottom, adhesive layer is die-cut to correspond to the wells of a 96-well plate. 70 µm polyethylene/polypropylene base with 26 µm acrylic adhesive. For temperatures from -40°C to +90°.C. Non-sterile, 50 sheets per box.
Directions:

1. Be sure the sealing surface is dry.
2. Peel off the center protective paper and position the film over plate. Carefully press the film over the entire surface of the plate or use a brayer (Item No. 9127-2940).
3. To use th