Eppendorf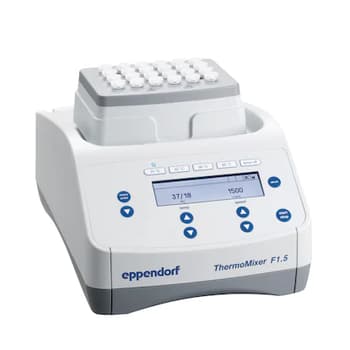 Eppendorf ThermoMixer F1.5
Get the latest in precise heating and mixing for 1.5 mL tubes. The Eppendorf ThermoMixer® F1.5 offers efficient mixing up to 1,500 rpm with 2DMix-Control and anti-spill technology.
USD
https://www.usascientific.com/eppendorf-thermomixer-f1.5/p/4053-8420
Operates from 4°C above ambient to 100°C with simple, intuitive control that even has predefined temperature keys (37°, 42°, 56°, and 95°C). An optional ThermoTop® prevents condensation. Holds 24 tubes.
Eppendorf ThermoMixer F1.5
Temperature accuracy
±0.5°C between 20°C and 45°C
Temperature control
range
From 4°C above RT to 100°C
Temperature setting
range
1°C to 100°C
Interface
USB 2.0
Power consumption
200 W
Power supply
120 V, 50/60 Hz
Timer
N/A
Dimensions (W x D x H)
8.1 x 12.0 x 5.2 in / 20.6 x 30.4 x 13.1 cm
Weight
13.2 lb / 6.0 kg (w/o accessories)