Eppendorf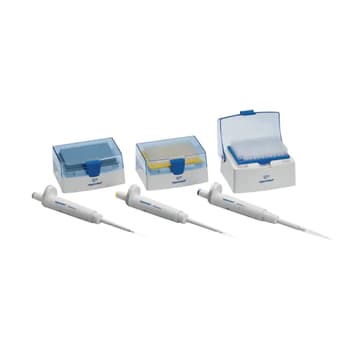 Eppendorf Reference® 2 6-pack
Reference 2 pipette 6-pack. Includes 6 adjustable-volume pipettes and 1 full box of Eppendorf pipette tips for each pipette volume (excludes 5 mL and 10 mL tips).
USD
https://www.usascientific.com/eppendorf-reference-6-pack/p/Ref-6-pack
Eppendorf Reference 2 6-packs will help you get your lab up and running in no time and at a great price!
6-packs include 6 Reference 2 pipettes with pipette tips.
The Reference 2 pipette is remarkably light both in terms of weight and pipetting forces. It also features a spring loaded nose cone for low tip attachment and ejection forces and is fully autoclavable. In addition to all the features above, the Reference 2 one-button design minimizes the risk of aerosol contamination and reduces thumb strain.