Eppendorf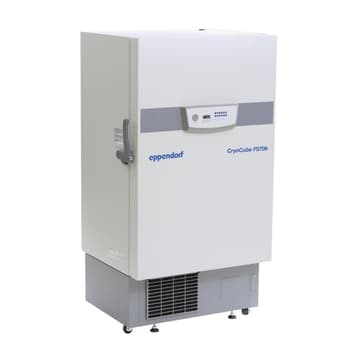 The Eppendorf CryoCube F570 series of ULT freezers minimizes operating costs while providing superior protection for your critical samples. A combined insulation based on vacuum insulation panels and polyurethane foam enables extremely low energy consumption. The lab freezer CryoCube F570h needs 14% less energy than its predecessor.
15958.0000

USD

$15,958.00
17039.0000

USD

$17,039.00
USD
USD
https://www.usascientific.com/eppendorf-cryocube-f570/p/cryocube-f570
The Eppendorf CryoCube F570 series offers a 5-compartment lay-out and 5 inner doors for easy sample access.
The series is based on three models:
CryoCube F570: 130 mm wall (polyurethane insulation), "classic" cooling liquids, air-cooling
CryoCube F570h: 130 mm wall (polyurethane insulation and vacuum insulation panels), "green" cooling liquids (R290/ R170), air-cooling
CryoCube F570hw: 130 mm wall (polyurethane insulation and vacuum insulation panels), "green" cooling liquids (R290/ R170), water-cooling The CryoCube F570 series has a volume of 570 L (20.1 square feet) and a temperature range from -50 °C to -86 °C.
PhysioCare
Besides sustainability, the main focus of our freezers is on ergonomic aspects. Especially the new door handle of the CryoCube models is based on the Eppendorf PhysioCare Concept: Safe grip but very light forces needed to open and close the freezer door. The interface is on eye level for easy reading of all settings. The automatic vent port enables fast re-access to your samples.
Cost of Ownership
When investing in a new ULT freezer, the product price itself is only one aspect. Others include the long-term costs of power consumption and the costs of service and spare parts. Keep in mind, a high-quality ULT freezer will do its job in the lab for 10 years or more.
Sample Safety
The CryoCube F570 series is equipped with reliable heavy-duty compressors (2-stage cascade cooling system). Quick pull-down times enable fast re-use after cleaning/defrosting of the instrument. The freezers have short recovery times after opening to provide extra sample safety. Their temperature range is from -50 °C to -86 °C. For even higher sample safety, the ULT freezers can be equipped with CO2/LN2 back-up systems and a chart recorder. Temperature monitor systems can be used to monitor the freezers remotely.
Sustainability
Sustainability for ULT freezers is a challenge: Maintaining extremely low temperatures of -86 °C for 24 hours a day, 7 days a week needs energy. By following the epGreen concept, the Eppendorf freezer R&D team developed intelligent solutions where energy savings are combined with durable long-lasting product quality and ergonomic aspects. By using highly efficient technologies, the CryoCube F570h just needs 7.6 KWh/day. This future-oriented instrument class provides consumption levels which are ahead of most competitors within this volume class. The CryoCube F570h (115 V) is certified by ENERGY STAR®.