Autofil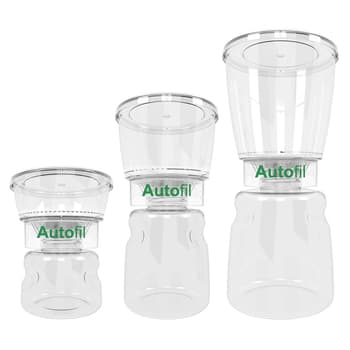 Autofil® Bottle Top Filter Assemblies
Autofil-Bottle-Top-Filter
Autofil bottle top filter assembly. Includes funnel, filter, and receiver bottle. Individually wrapped, sterile, 12/case.




Save time and simplify handling. Large filters work quickly; wide bases improve stability and reduce tip-overs.
$149.00
$149.00
95.4200

USD

$95.42
287.5000

USD

$287.50
USD
USD
https://www.usascientific.com/autofil-bottle-top-filter-assembly/p/Autofil-Bottle-Top-Filter
Streamline your vacuum filtration and sterilization. The Autofil® system introduces innovative design features that simplify handling, shorten filtration time, and reduce costly accidental spills.
Autofil features a seamless, molded funnel and threading unit. One piece construction eliminates the potential loss of vacuum that may occur in other brands when sonically welded parts leak at joints and seams. The funnel and bottle are made from low extractable polystyrene tested to meet USP Class VI and FDA requirements and are non-cytotoxic and pyrogen free.
Autofil asymmetric PES membrane filters are extremely low protein binding and surfactant free. Large surface area and optimum performance means reduced filtration times and improved productivity. Autofil SS high velocity membranes outperform the leading competition with up to 150% faster flow rates. Even the most challenging solutions can achieve a better flow rate and filtering throughput.
Autofil assemblies have a wide base and low center of gravity to reduce tip-overs. The receiver bottle is ergonomically shaped with narrow, sloping shoulders and molded finger grips. The unique SECUREgrasp™ cap has a large surface area and prominent no-slip edges for a safer grip and easy transport. (The filter funnel may be purchased separately for use with standard bottles with a 45 mm neck.)
While Autofil systems can be used alone, the Quick-Connect™ pedestal base or cradle ring provides hands-free operation. Simply attach your vacuum line to the Quick-Connect hardware. When you are ready to filter, set the Autofil unit onto the base or cradle and open the built-in vacuum control. Your filter is now fully supported for secure, hands-free operation and will not tilt or spill.