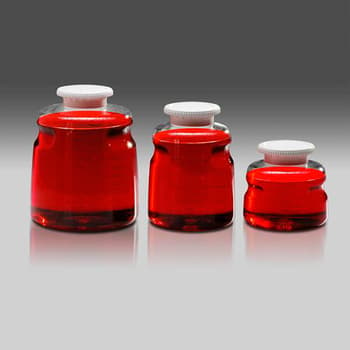 Autofil® Bottle, Polystyrene
Autofil laboratory media and storage bottle, polystyrene with white cap, 12 sleeves of 2 (24).
98.0000

USD

$98.00
176.5000

USD

$176.50
USD
USD
https://www.usascientific.com/autofil-bottle-polystyrene/p/af-bottle-ps
Autofil® ergonomic bottles feature rounded, sloped shoulders with generous finger holds for easy transport. Wide bases aid stability and create a low center of gravity. The unique SECUREgrasp™ cap has no-slip edges for a safer grip and a large flat surface for convenient labeling.
Each bottle has large raised graduations on the front and back. Additional head space allows dilutions of up to 15%. Autofil bottles are available in three low extractable plastics. All components meet USP Class VI and FDA requirements and are non-cytotoxic. Sterile bottles are pyrogen free.
Polystyrene (PS) is recommended for most cell culture aqueous solutions and is stable to 80° C. PS is also generally suitable for weak acids, bases, or dilute alcohol. PS bottles have white caps and are not autoclavable.