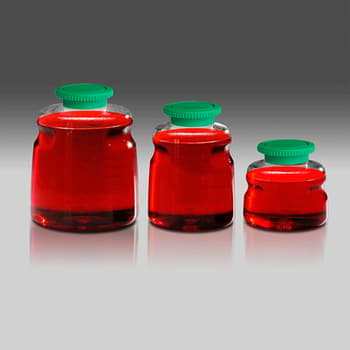 Autofil laboratory media and storage bottle, PETG with green cap, 12 sleeves of 2 (24).
$117.00
$117.00
76.8000

USD

$76.80
215.0000

USD

$215.00
USD
USD
https://www.usascientific.com/autofil-bottle-petg/p/af-bottle-petg
Autofil® ergonomic bottles feature rounded, sloped shoulders with generous finger holds for easy transport. Wide bases aid stability and create a low center of gravity. The unique SECUREgrasp™ cap has no-slip edges for a safer grip and a large flat surface for convenient labeling.
Each bottle has large raised graduations on the front and back. Additional head space allows dilutions of up to 15%. Autofil bottles are available in three low extractable plastics. All components meet USP Class VI and FDA requirements and are non-cytotoxic. Sterile bottles are pyrogen free.
PETG works well for common laboratory solutions. It has good cold resistance but cannot be heated or autoclaved. It is generally appropriate for weak acids and alcohol. Green caps.